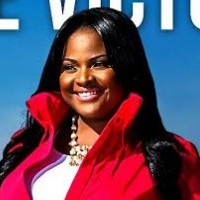 The Gospel music industry is blessed with many gifted singers.  But occasionally a few stand out from the crowd.  One of those amazing artists is Wura Grant.  With an unforgettable voice and a passion to sing God's praises, Wura Grant is on the cusp of becoming a household name.  An exceptional songwriter and a powerhouse vocalist, Wura is bringing a fresh sound to the genre.  Earlier, she released her debut single, a stunning ballad called "There Is A Name".  Reminding the listener of the power in the name of Jesus, Wura executes the song, a clever mix of Contemporary Christian and Gospel music, with sincerity and intensity.  Seen performing the tune on WATC-TV's Atlanta Live, she's been getting rave reviews since the song's release.  Fans of the psalmist can expect a concept music video for "There Is A Name" to release in early 2015.
As a follow up to "There Is A Name", Wura recently dropped the inspirational "I See Victory".  Penned by the songstress, the tune is an anthem for speaking triumph before it arrives.  "The song came to me after I tuned in to the news one day," Wura shares.  "I was watching what was going on in the world and it troubled me. Although I was tempted to get discouraged by what I was seeing, I chose to see victory.  I chose to believe that God really does have the whole world in His hands and that there is victory on the other side.  It's easy to get distracted by what's happening, but I encourage people to see beyond the chaos, beyond the confusion.  In the midst of the sadness of this world, God can show us victory."  Both songs, "I See Victory" and "There Is A Name", have charted in the Top 5, with "There Is A Name", hitting #1 on the Christian Radio Chart.  Both singles are also available on iTunes and other digital retailers.
Hailing from the Motherland, Wura came to the United States to attend Michigan State University where she ultimately received a bachelor's degree in Electrical Engineering and a master's degree in Finance.  Her musical upbringing began as a youth singing alongside her mother.  A shy child, she did some singing in the children's choir.  In 2010, she joined her first Gospel choir and realized that she had a talent for singing.  It wasn't until God gave her the song, "There Is A Name", that she knew she had been called to music ministry.  After a performance, she was approached by a woman who said she had been healed while Wura was singing the song.  It's those type of testimonies that affirm that God has her right where she belongs.  The album, Peace In The Midst, which features the two singles, is scheduled to release in early 2015.  Grant tapped Shannon Sanders (songwriter of Indie.Arie's "Brown Skin"), Sean Hill, David Hunter and David Grant as producers.
"I love high praise," says Wura.  "But I understand that my ministry is to encourage and inspire others.  When we're going through tough times, we all need to be edified and lifted up.  I believe that's what I have been sent to do through the vehicle of music.  Sometimes a song can be an answer to a prayer."