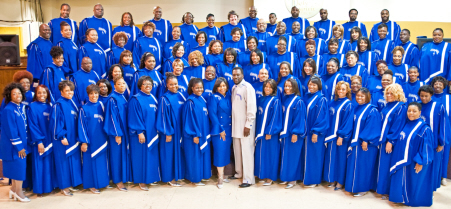 Over the last 25 years, the renowned Chicago Mass Choir has been blessed to perform on several national television shows including, TBN, BET's Bobby Jones Gospel, GMC's Hometown Gospel and more.
When Chicago Mass Choir was founded by the late, James C. Chambers, a goal was set to cross denomination and racial barriers by uniting singers, musicians and choirs from the Chicago area. As the vision continues, this year Chicago Mass Choir will hit the national television stage again, Saturday, March 22nd during the Allstate Gospel Superfest Concert television taping in Chicago, IL.
Chicago Mass Choir will join several national Gospel artists, including, Mary Mary, James Fortune, Michelle Williams, Deitrick Haddon, Tye Tribbett, Jessica Reedy, JJ Hairston and more.
The choir's upcoming appearance is a great set up for their long awaited live recording scheduled for May 3, 2014 in Chicago, IL. Yes, they are preparing to record new music, but supporters will definitely be treated to their Chicago Mass Choir favorites during the Allstate Gospel Superfest concert taping.
The Allstate Gospel Superfest will be held at the House of Hope Arena, 752 E. 114th Street, Chicago, IL and begin at 6pm.