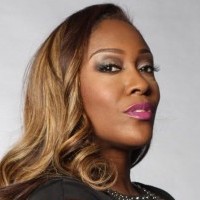 Soul music legend Cheryl "Coko" Clemons of the `90s hit-making trio SWV and Clemons' longtime manager Cory Taylor have teamed up for a new inspirational radio program with an edge. The general public first observed the duo's zany brother-sister chemistry on three seasons of WE TV's "SWV Reunited" reality series and now they are bringing that same familiar vibe to the radio airwaves every weekend.
"We both grew up in church but in the show we say things other Christians may be thinking but are afraid to say," says Taylor (of 21 Voices Entertainment) who has managed Clemons since 2008. "The response has been incredible," says Rejoice Musical Soulfood CEO Mike Chandler. "The audience is really loving the dynamic of Coko and Cory.  So, I'm excited to see where the show is going from here."
Aside from hearing the show on terrestrial radio, fans can listen to it live online at www.musicalsoulfood.com or download the Musical Soul Food app from the website. Rejoice Musical Soulfood was founded in 1989 and is one of the largest African-American inspirational and gospel radio-format content providers in the country. The flagship program, Musical Soul Food can be heard 24/7 on over 34 affiliate stations.
Rejoice Musical Soulfood also develops and licenses day-part programs and specialty shows such as "The Dorinda Clark Cole Show," "The Tracy Morgan Show," Cedric Bailey's Traffic Jam," "The Big Brother CJ Show," "Down Home With Melvin Williams," "All Saints Radio"and "#Those Baxters" among many others.