"Inspired Connections"
Connect with some of the most Dynamic Women in Ministry as they
Chat About Life & TNT Hit Drama Hawthorne,
Starring Jada Pinkett Smith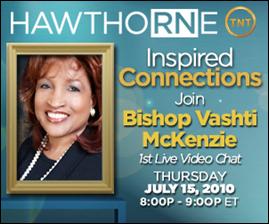 Atlanta, GA — Starting June 22nd through August 27th, make some "Inspired Connections" with some the most dynamic women in ministry as they discuss intriguing storylines from the TNT hit drama series HawthoRNe, staring Jada Pinkett Smith.  Inspired Connections is a social media campaign, returning to StreamingFaith.com with the second season of Hawthorne.  The campaign features a panel of six (6) of the top, most visible female faith influencers in the country; Bishop Vashti McKenzie, Pastor Paula White, 1st Lady Dee Jobe, Co-Pastor Susie Owens, Pastor Lisa Young and 1st Lady Bridget Hilliard. The program will launch simultaneously with the season premiere of HawthoRNe. The ground-breaking medical drama returns to TNT on June 22 at 9/8c.Viewers can log onto StreamingFaith.com/HawthoRNe to hear and see the panelists' points-of-view.  Every Wednesday and Thursday during the ten week season, there will also be live chats with the panel members to discuss their inspirational viewpoints of each storyline and how they apply to everyday life. Episodic video reflections from the various panel members will available online until August 27th.
Again, don't miss, Inspired Connections (Season Two), June 22 – August 27, 2010.
Inspirational Messages & Live Chats – Wednesday & Thursday (8:00PM – 9:00 PM Eastern Standard Time)
www.streamingfaith.comHawthoRNe – for the live chats and inspirational messages from the       "Inspired Connections" panel.
LADY BRIDGET HILLIARD (along with her husband Dr. I.V Hilliard) is the co-founder of the dynamic New Light Christian Center Church ("One Church, Multiple locations") in North, South and East Houston; Beaumont and Austin, Texas. Their passion to take God's Word to a hurting and lost generation has resulted in a current church membership of over 28,000 and counting.
DEE JOBE is Mark's wife and long term partner in ministry. Dee grew up in Chicago and became a believer at an early age. Dee has a dynamic ministry in worship, coaching pastor's wives and overseeing multiple ministries. Dee and Mark met and married in their early 20's after three years of dating. Dee has a contagious laugh, a deep concern for children and a love for God that is quickly evident.
BISHOP VASHTI MURPHY MCKENZIE serves as the 117th elected and consecrated bishop of the African Methodist Episcopal Church. Her historic election in the year 2000 represents the first time in the over 200-year history of the A.M.E. Church, in which a woman had obtained the level of Episcopal office. Later in 2004, she again made history by becoming the first woman to become the Titular Head of the denomination, as the president of the Council of Bishops. She served her one year term that made her the highest-ranking woman in the predominately Black Methodist denomination.
EVANGELIST SUSIE OWENS serves alongside her husband in ministry as the Co- Pastor of Greater Mt. Calvary Holy Church, a progressive, inner-city church with an adult membership of more than 7,000. In her spare time, she enjoys the theatre reading and spending time with her two children, Alfred Thomas and Kristel Moneek and grandchildren – Nathan, Darian, Nicholas, and William.
PASTOR PAULA WHITE is a Life Coach, Motivational Speaker, Preacher, Author, Humanitarian, Philanthropist, Teacher, TV Personality and Mother. Her story is one of tragedy and triumph, poverty and prosperity. She has been called a Phoenix, having risen up from the ashes of tumultuous early years to dedicate her life to pulling others out of their circumstances so that they can focus in on Gods unique plan of destiny for their lives. Today, Paula White is an inspiration to millions around the world who seek Gods love. She hosts an international television program, spearheads humanitarian efforts worldwide, all while travelling the world fulfilling her mission and call to Transform Lives, Heal Hearts and Win Souls.
LISA YOUNG is the wife of Senior Pastor Ed Young of Fellowship Church. In addition to joining Ed on stage for special weekend messages, she helps direct many of the creative and organizational aspects of Fellowship Church and its affiliated members. She has written a cookbook "Body for God", which offers simple, down-home recipes that are healthy, filled with flavor and easy to prepare any culinary expert. She enjoys cooking, nutrition, fitness and spending time with Ed and their four children.
About Hawthorne
This June, the hit series returns with star and executive producer Jada Pinkett Smith (The Women, The Matrix trilogy) as Christina Hawthorne, a Chief Nursing Officer ready for battle on the front lines of a war against declining patient services and hospital budget cuts. As the second season of HAWTHORNE opens, several Richmond Trinity doctors and nurses have been transferred to James River, a failing hospital in terrible shape. There, Christina butts heads with the ER's head nurse, Gail Strummer (Vanessa Bell Calloway – The District), who is extremely set in her ways. Christina is impressed, however, by the charming Dr. Steve Shaw (Adam Rayner – Mistresses), who hails from England, and the hard-working ER clerk Marcus Leeds (Collins Curtis Pennie – Half Nelson), who has his eye on Camille. Christina and Tom will try to forge a romantic relationship, especially now that he is no longer serving as Chief of Surgery and can devote more time to patient care and a private life. Bobbie will once again find herself helping out homeless mother Isabelle. Ray's lust-hate relationship with Dr. Marshall will hit some snags over Ray's continued feelings toward Candy, who is serving a tour of duty in Afghanistan. Kelly's confidence as a nurse will slowly build, thanks in part to her work with a nurse (guest star Sarah Gilbert – Roseanne) who's even more insecure. And Camille takes a step toward adulthood that her mother isn't sure she's prepared to take. Created by Emmy® winner John Masius (St. Elsewhere, Providence, Dead Like Me), HAWTHORNE comes to TNT from Sony Pictures Television in association with Pinkett Smith's 100% Womon Productions, John Masius Productions and Jamie Tarses' FanFar Productions. HAWTHORNE is executive-produced by Pinkett Smith; Masius; Glen Mazzara (The Shield, Crash, Life); and Jamie Tarses (My Boys).