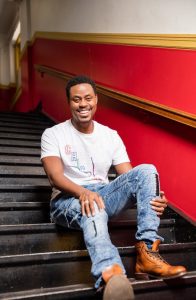 Chart-topping recording artist Charles Jenkins – who is best known for his Billboard Magazine No. 1 hits "War" and "Awesome" – has ventured out into new musical waters with his hypnotically catchy new beat "Winning." The uplifting anthem of hope and determination was serviced to Urban Adult Contemporary radio earlier this week and has already earned status as the second most added song in the UAC genre with ten new station adds on the Mediabase chart and seven new adds on the Billboard chart.
The song is taking off in a big way with fresh airplay on KRMP (Oklahoma City, OK), WAKB (Augusta, GA), WIMX (Toledo, OH), WMPZ (Chattanooga, TN), WTTH (Atlantic City, NJ), WXST (Charleston, SC), WAGH (Columbus, GA), KDKS (Shreveport, LA), WTUG (Tuscaloosa, AL) and KOKY (Little Rock, AR). The tune is inspiring people to post #Handsup selfies all over cyberspace. "I wanted to lift people up with a different sound and spread some #positiveair on the radio airwaves and social media," says Jenkins. "There's so much bad news, negativity, violence and hopelessness in the world right now that we just wanted to send out some encouragement and remind everyone that they can win and be upbeat in this thing called life."
"Winning" anchors Jenkins' debut solo album "Think About These Things" (Inspired People/Empire Distribution) that releases to brick-and-mortar stores and digital service providers such as the iTunes Store (http://smarturl.it/TATT) on Friday, September 2nd.  The ten-track project of inspiring beats and rhythms was produced by Jenkins with Grammy ® Award winning producer Warryn Campbell (Kanye West, Alicia Keys, Mary Mary). Jenkins will perform during the upcoming Tom Joyner Family Reunion on Labor Day weekend event in Kissimmee, Florida and he will also appear live on the nationally syndicated radio program, "Get Up! Mornings with Erica Campbell" which broadcasts from the event on September 2nd.  "Winning" and Jenkins' other thought-provoking songs have inspired a casual wear clothing line that can be viewed at www.inspiredpeopleclothing.com.