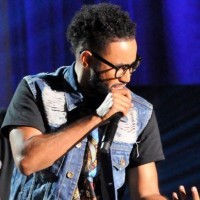 This week CBN News spotlights Dove and Stellar Award nominated singer/songwriter Bryan Andrew Wilson on the 20th anniversary of his now legendary rendition of "His Eye is on the Sparrow" with The Mississippi Children's Choir when he was ten years old. Online videos of the performance have over 2.5 million combined views and fans of the song still approach the now 30-year old singer. "It's amazing how many people still remember that song," Wilson laughs. "It's been really wild having people I respect like Anthony Brown, Willie Moore Jr., Torrence Glenn from BET and even Coko from SWV tell me they used to watch that video. It's really humbling."
The full Bryan Andrew Wilson interview with CBN News anchorman Efrem Graham can be viewed at http://smarturl.it/72a09i In the interview, Wilson talks about his career ups and downs as well as comeback last year with the Top Ten hit "Turning Away" from his Stellar Award nominated album "The One Percent." That project also produced Wilson's current mid-tempo Top 40 radio single "Show Me Your Glory" that is moving up the airplay chart.
A lot of exciting things are happening in Wilson's life these days. Last week he was featured on the syndicated radio program "The Nightly Spirit with Willie Moore Jr." and three weeks ago he taped a riveting performance of "Turning Away" for the upcoming 35th and final season of BET's "Bobby Jones Gospel" program that will air this fall. In September, Wilson, who has been pastoring a church in Washington, D.C. for two years, will open a House of United Believers Church in his hometown of Danville, IL and he will serve as its senior pastor. Fans can keep up with Wilson's activities on Twitter on IAmBryanWilson or on Instagram at BryanAndrewWilson.