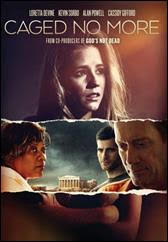 CAGED NO MORE exposes the horrifying reality of one of the most profitable and fastest growing crimes: human trafficking. Every 30 seconds someone becomes a victim of human trafficking. Globally, 27 million people are trafficked each year, with 1.2 million of those being children.
The award winning film has prompted a movement for audiences to get involved in fighting this global crime. With women and young people becoming targets through the internet and social media, human trafficking has become a global epidemic. Any time it is reported a woman or teen is missing, authorities wonder if they have become a victim of human trafficking.
The film stars Kevin Sorbo (God's Not Dead), Emmy-Award winner Loretta Devine (The Carmichael Show), Alan Powell (The Song), Cassidy Gifford (God's Not Dead), Anthony Evans (recording artists and son of Dr. Tony Evans) with appearances by Kathie Lee Gifford, Gretchen Carlson (Fox News), and recording artist Natalie Grant.
The film is rated PG-13 (mature themes, some violence) and co-written and directed byLisa Arnold (co-producer for God's Not Dead).  Information is available at the film's website www.cagednomoremovie.com.
FILM OVERVIEW:
Aggie is a grandmother who encounters her worst nightmare when she discovers her two granddaughters, Skye and Elle, have been kidnapped by their sinister father (Sorbo). As details behind the girls' disappearance come to light, it is discovered he has taken them overseas to be trafficked to settle his drug debt.
Aggie enlists the help of the girls' uncle, a well-respected local philanthropist, and his son Wil (Powell), who is former Special Forces. A global hunt ensues, and the team is forced to enter the dark and dangerous trafficking world to bring the two girls safely home.