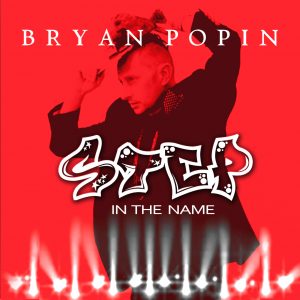 Billboard No. 1 artist Bryan Popin releases his 3rd official single, "Step In The Name," from his best-selling album, I GOT OUT, to digital and streaming outlets today. This hot track brings heat with an infectious funky pop groove that mixes old school with the new school. Embodied with the essence of gritty horns, coupled with assertive lyrics, and an unforgettable hook, "Step In the Name," mandates a hip/hop twist that makes you wanna "just let go" and "step into your miracle."
"Step In The Name" is the follow-up to Popin's self-titled hit single,"I Got Out," which peaked at No. 4 on Billboard's Gospel Airplay chart (20 weeks in the Top 10) and reached Top 10 on its Hot Gospel Songs hybrid chart, which combines streaming, sales and airplay.
Released July 21, Bryan Popin's sophomore release I Got Out debuted at No.1 on both Billboard's Top Gospel Albums and the combined Top Christian/Gospel Album Sales charts and made an impressive debut on Billboard's Overall Top Albums Sales chart reaching Top 40. I GOT OUT spent 7 weeks in the Top 5 on the Gospel Albums chart and was the fourth highest Gospel sales debut of 2017 at the time of its release. Currently its the sixth highest gospel sales debut this year, to date.
The Nashville-based singer/songwriter released his current project independently through his label Little Boy Wonder Music/Flaydo Music and distributed by Fuel Music. I Got Outdebuted with more than six times the sales of his freshman project, a major label release. The project is produced by Popin and super-producer AyRon Lewis (Kirk Franklin, James Fortune, Bishop Paul Morton Jr.) and includes top-notch collaborations with GRAMMY® winner Tamela Mann and BET's Sunday Best winner Tasha Page-Lockhart.
Stay tuned for more info on the viral and concept music video COMING SOON as we STEP together in unity.
About Bryan Popin:
A native of NJ, Bryan Popin was a piano protégé by his early teens. Later in his career, the legendary Stevie Wonder nicknamed him the "Little Boy Wonder" and he's continued to impress with his songwriting, keyboard skills and vocal flow. Popin has appeared with Bishop TD Jakes numerous times and was featured at both MegaFest and Bishop Jakes' Pastors & Leader's Conference. He's written with R&B legend Chaka Khan, opened for Tye Tribbett, Israel Houghton, Deitrick Haddon, Donnie McClurkin, Marvin Sapp and American Idol alum Danny Gokey. At the height of their popularity, Justin Timberlake's *NSYNC recorded one of Popin's songs for their multi-platinum album and stadium tour, Celebrity. His Billboard No. 1 Gospel album, I Got Out, is now available in stores and online.