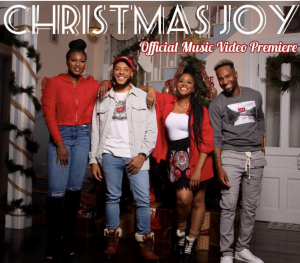 Christmas Joy is here, it's in the atmosphere and people everywhere are preparing for a very different Christmas! Even though it won't be the same, the signs of Christmas are here! If you don't have the holiday spirit quite yet and are looking for new songs to awaken your inner joy, Brandon Camphor & One Way (BC1Way), one of the most exciting young vocal groups in Contemporary Christian Music, have released a new single, "Christmas Joy" that will have you dancing, laughing, smiling, and singing! Sure to become a holiday classic, the Motown/Jackson 5 inspired festive track celebrates all the things we love about about Christmas: jingling bells, children laughing, families gathered by the fireside, and more.
"So many of us will be separated from our families or unable to attend our favorite holiday shows this year making this Christmas unlike any other. It is my hope that Christmas Joy brings the light and hope of the holidays back into the hearts of so many people who desperately need it after the year we've faced," shares Brandon Camphor, lead vocalist for BC1Way.
On "Christmas Joy," he duets with Julia McMillan and harmonizing with them are group members, Angela Jones and Fred Cleveland. Their four lead voices are already a mainstay on Christian Gospel stations with 4 songs that have debuted in the Top 30 on Billboard's Gospel Airplay Chart: "His Name," "I Choose You," "You Are God," and "God Of Mercy."
Watch the new music video for "Christmas Joy" here, sing along, learn a few dance steps while you pull out the decor and get your playlist together. The holidays and the promise of a new year are just around the bend! If you're adding holiday music and videos into playlists, please search for "Christmas Joy, the new single from Brandon Camphor & OneWay (BC1Way)!