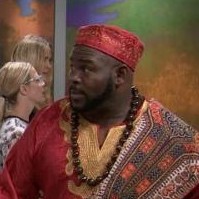 Bounce TV's hit original sitcom MANN & WIFE concludes its first blockbuster season with a side-splitting finale, "Undercover Mann" tonight! When Daniel (David Mann) receives news about former police academy classmates' success on the force, he believes that solving a big case will help him earn a long-awaited promotion at work.
To help his chances, Daniel goes undercover to bust an art thief against direct orders from his boss, dragging his cop partner Michael (Tony Rock), his wife Toni (Tamela Mann) and his mom Lorraine (Jo Marie Payton) into his ill-conceived plan.
Meanwhile, Michelle (Vivica A. Fox) is back for a visit and ends up on babysitting duty.  She attempts to help DJ (Steven Wash) with a class project, which seriously tests her skills.
MANN & WIFE has broken network ratings records as Bounce TV's most-watched original to date. Tune in for big laughs on the season finale of MANN & WIFE Tuesday, June 9 at 9 p.m. ET/8 p.m. CT.