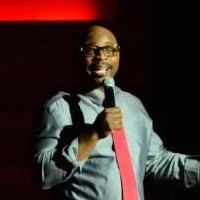 Comedian Rudy Rush will headline his very own one-hour special as part of Bounce TV's popular, family-friendly original comedy series "Off The Chain." "Off The Chain: Rudy Rush" premieres on Monday, May 18 at 10/9pm CT. "Off The Chain" features some of the most hilarious African-American comedians on the stand-up scene. For season three, Bounce TV turns over the microphone to one comic per show, expanding to an hour-long format.   As a result of its success, Bounce TV recently announced that "Off The Chain" has been renewed for a fourth season, set to debut in 2016.
A veteran of the professional comedy circuit, Rudy Rush has experienced a wide spectrum of the entertainment business, from touring colleges and clubs to becoming the youngest host of the longest-running African-American syndicated show, Showtime at the Apollo. Rudy parlayed his Apollo notoriety into major projects with Dave Chappelle and Martin Lawrence, while also appearing on shows such as Def Comedy Jam, Jamie Foxx's Laff-A-Palooza and Premium Blend.
Rudy has been featured in his own half-hour special on Comedy Central and was the comedic force on the long-running, nationally syndicated radio show, The Doug Banks Morning Show.
Discussing everything from relationships and dealing with children to the trials of aging, Rudy Rush is leaving nothing untouched during his hour-long hilarious turn at the OTC microphone.
Tune in for OFF THE CHAIN with Rudy Rush Monday, May 18 at 10 p.m. ET/9 p.m. CT.