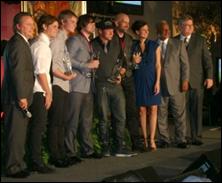 BMI honored the writers and publishers of the most performed BMI songs on Christian Radio during 2009. The gala event, held as a preliminary to the Dove Awards, took place at the BMI offices on Music Row in Nashville and was attended by a Who's Who in the gospel music industry including industry leaders, songwriters and performers including Chris Sligh, Casting Crowns, Matt Maher, TobyMac and more.
Several of the artists performed their hit songs including the Booth Brothers, TobyMac and Caleb – made up of the two sons of Steven Curtis Chapman – who performed his song "Cinderella" and accepted their father's honors on his behalf.
By contributing two songs each to the most-performed list, TobyMac, Steven Curtis Chapman, producer/songwriter Chris Stevens, and new singer/songwriter Jason Walker shared the Songwriter of the Year title, while "Lose My Soul," recorded and co-written by TobyMac and Stevens, took home Song of the Year honors.
As part of the night's festivities, Christian music executive Billy Ray Hearn was honored for his years of service to the gospel music industry. Quotes were read from some of the legendary artists he has worked with through the years. The very first quote was from Andy Griffith who said he and Cindy thanked Hearn "for giving this old country boy the chance to record some hymns."
A delicious steak dinner was served, but even more enjoyable was the dinner company. Jim Brady of the Booth Brothers and gospel artists Matt Maher were seated at my table as were several fun media types.