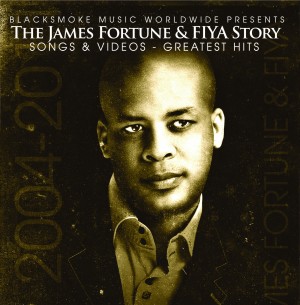 For the last half dozen years, Blacksmoke Music Worldwide CEO Kerry Douglas and his highly-motivated staff have pulled out all the stops to make James Fortune & FIYA the hottest young choir leader to hit the gospel scene since Kirk Franklin and Tye Tribbett. In that brief time, Fortune has amassed more hits than some artists earn in a lifetime and fifteen of those timeless tunes will comprise the forthcoming CD, "The James Fortune & FIYA Story: Songs & Videos – Greatest Hits" (Blacksmoke Music Worldwide) that will be released November 18, 2011.
The set boasts Fortune's gospel and R&B–crossover radio hits "The Blood," "Encore," "I Wouldn't Know You," "You Survived," and his personal testimony of becoming homeless, "I Trust You" which spent 29 weeks at #1 on Billboard's Hot Gospel Songs chart. Fortune's most recent #1 smash, "I Believe" (featuring Shawn McLemore & Zacardi Cortez), is also featured. The latter is also nominated for a Soul Train Award as Best Gospel Performance of the year. The program will tape in Atlanta on November 17th and simulcast on both Centric and BET on November 27 at 9 pm est/8 pm cst.
This must-have for fans of contemporary gospel and praise music, also features over two hours of music video footage. Among the clips are Fortune's concept videos "I Believe" and "I Trust You." There is also live concert footage highlighting cameos by Zacardi Cortez, William Murphy and others. Now that Fortune is established and moving into new career directions, Douglas is focused on making Earnest Pugh (#1 for five weeks with his smash "I Need Your Glory"), Zacardi Cortez (#14 with "One More Time" duet with John P. Kee), Bryan Wilson and Preashea Hilliard his next big gospel stars.