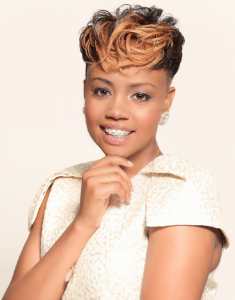 Legendary record label Blackberry Records has announced the signing of talented female vocalist Keyla Richardson, announced today by Doug Williams, President of Blackberry Records. The label is gearing up to release Richardson's debut single, "Believe," slated to hit all digital and streaming outlets March 2018.
"Believe" is a powerful song with a positive message that is so needed in today's society. Produced by the award winning team of Doug Williams and Stan Jones, Keyla's vocal abilities were captured with a soulful feeling that is undeniably breathtaking.
Her extraordinary talents were first discovered when she and three of her friends sung an accapella version of the song "Hold On" that went viral and garnered more than ten million views. Shortly thereafter, Doug Williams and Co-Producer Stan Jones saw her perform live in a small town in Georgia and was mesmerized by her stage presence, delivery and poise . Doug was on the phone a few days later talking to her father about the possibility of her becoming a part of the Blackberry Records family.
"After being involved in the music industry for nearly sixty years, it's not very often that I am completely blown away the first time I hear an artist perform live", states Doug Williams. "However, such was the case when I first heard Keyla Richardson perform. I simply could not believe the anointing and the power that was flowing from this young woman, not to mention her extraordinary vocal abilities and voice control. Instantly, I could tell that she had an amazing destiny in front of her. Therefore, I am truly honored to have her as a part of the Blackberry Records family and so excited to see where God is getting ready to take her."
Keyla Richardson was born and raised in Pensacola, Florida and serves as Praise & Worship leader at Abundance Of Life Temple Of Praise, where her father Apostle Willie Richardson is Pastor. She's an unusually anointed 21 year old woman of God that the music world and fans everywhere are sure to fall in love with.