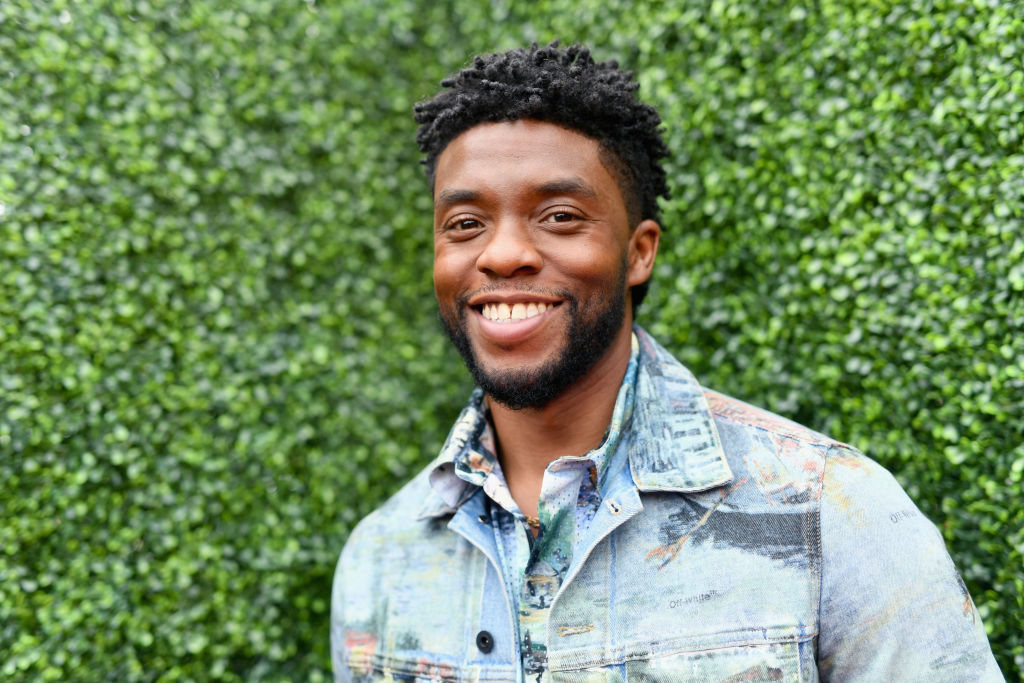 Chadwick Boseman, the beloved actor who played many of the greatest Black characters in history, including one of his most notable, "Black Panther," has died. He was 43.
We, along with just about everybody else, are shocked. How could this handsome, well-respected, super talented, and beautiful Black man be gone so soon?
A statement on his official twitter account read, "It is with immeasurable grief that we confirm the passing of Chadwick Boseman," the statement read. "It was the honor of his life to bring King T'Challa to life in Black Panther."
Before he was cast as the Marvel Studios superhero, Boseman's career first exploded with his portrayals of Black American icons Jackie Robinson (in 2013's "42") and James Brown (in 2014's "Get on Up"). Boseman also appeared in Spike Lee's "Da 5 Bloods," and played Thurgood Marshall in 2017's "Marshall."
The statement went on to says that "Chadwick was diagnosed with stage III colon cancer in 2016, and battled with it these last 4 years as it progressed to stage IV."
"A true fighter, Chadwick persevered through it all, and brought you many of the films you have come to love so much. From Marshall to Da 5 Bloods, August Wilson's Ma Rainey's Black Bottom and several more, all were filmed during and between countless surgeries and chemotherapy."
"It was the honor of his career to bring King T'Challa to life in Black Panther."
To read that he suffered through pain just to bring us enjoyment and excellence is a heartfelt reminder of how great this man's dedication to his craft and us was.
When he was diagnosed with stage III colorectal cancer, he battled a lot. Stage III is divided into three categories:
Stage IIIA: The cancer has grown into the intestine wall, through the mucosa (the inner lining) and into the submucosa and may have entered the muscle. The cancer has spread to up to three lymph nodes near the site of the primary tumor.
Stage IIIB: The cancer has grown into or through the outermost layer of the colon or rectum and may have spread into nearby organs or tissues. The cancer has spread to up to three lymph nodes near the primary site, but has not spread to distant organs.
Stage IIIC:The cancer has grown into or through the outermost layer of the colon or rectum and may have spread to four or more lymph nodes near the primary site. The cancer has also spread to nearby organs.
When Boseman's cancer advanced to Stage IV, that is the most advanced stage of colorectal cancer. When a person has been diagnosed with stage IV colorectal cancer, it means that the cancer has metastasized to distant sites, such as the liver or lungs. The cancer may or may not have grown through the wall of the colon or rectum, and lymph nodes may or may not have been affected.
Each year, about 140,000 Americans are diagnosed with colon cancer, and more than 50,000 die from it. That's bad news, but for African-Americans, it's even worse.
"African-Americans are more likely to get colon cancer, they're more likely to have an advanced stage of disease when they're diagnosed with colon cancer, they're more likely to die from colon cancer and they have shorter survival after diagnosis with colon cancer," said Dr. Fola May, assistant professor of medicine at UCLA and a researcher at Cedars-Sinai Medical Center.
That's why there is such a need for Black men to get screened for colon cancer. Consult your physician. Ask other men who've gotten the test done. Do something to fight this awful disease.
According to those who grew up with Boseman, he was always destined to be a success. "We knew when he was a student here, you could just tell the talent he had," said Sheila Hilton, Boseman's old principal at T.L. Hanna High School in South Carolina. "He was winning at everything he competed in."
Boseman graduated from Hanna in 1995.
"Chad was just a joy to have here," Hilton said.
He made himself known at his alma mater during plays, also as an athlete and as 'Mr. T.L. Hanna.'
"He also, here at Hanna was in the Speech and Debate program. He also was very talented at that," Hilton said. "We were just sort of waiting for him to get his big break," Hilton said.
He later graduated from Howard University in Washington, DC, in 2000 with a bachelor of fine arts in directing. He also graduated from the British American Drama Academy in Oxford. Boseman had wanted to write and direct, and initially began studying acting to learn how to relate to actors. While in New York he studied Digital Filmmaking at the Digital Film Academy.
Boseman was the drama instructor in the Schomburg Junior Scholars Program, housed at the Schomburg Center for Research in Black Culture in Harlem, New York. He moved to Los Angeles to pursue an acting career in 2008.
In one of his most memorable speeches, which are getting shared around the internet worldwide now, Boseman is seen clearly as an inspirational man. The commencemence speech to his alma mater, Howard, he encapsulates everything we admire in him and inspires a generation.
Here is a transcription of the last part of his speech:
What do you do when the principle and the standards that were instilled in you here at Howard closed the doors in front of you? Sometimes you need to get knocked down before you can really figure out what your fight is and how need to fight it.
At some point, my mind reverted back to my experiences here, to the professors that challenged me and struggled against me, Professor Robert Williams, Doctor Singleton, George Epstein, to name a few, the ones that will fail you out of the goodness of their hearts. This may be hard to grasp for some of you right now, but I even considered President Swygert and how negotiating with him was practice for a world that was considerably more cruel and unforgiving than any debate here, one that had no interest in my ideals and beliefs. How would I maneuver through all of this?
Finally, I thought of Ali in the middle of the yard in his elder years, drawing from his victories and his losses. At that moment I realized something new about the greatness of Ali and how he carried his crown. I realized that he was transferring something to me on that day. He was transferring the spirit of the fighter in me. He was transferring the spirit of the fighter to me. He was transferring the spirit of the fighter to me. Sometimes you need to feel the pain and sting of defeat to activate the real passion and purpose that God predestined inside of you. God says in Jeremiah, "I know the plans I have for you, plans to prosper you and not to harm you, plans to give you hope and a future."
Graduating class, hear me well on this day. This day, when you have reached the hill top and you are deciding on next jobs, next steps, careers, further education, you would rather find purpose than a job or career. Purpose crosses disciplines. Purpose is an essential element of you. It is the reason you are on the planet at this particular time in history. Your very existence is wrapped up in the things you are here to fulfill.
Whatever you choose for a career path, remember, the struggles along the way are only meant to shape you for your purpose. When I dared to challenge the system that would relegate us to victims and stereotypes with no clear historical backgrounds, no hopes or talents, when I questioned that method of portrayal, a different path opened up for me, the path to my destiny.
When God has something for you, it doesn't matter who stands against it. God will move someone that's holding you back away from the door and put someone there who will open it for you if it's meant for you. I don't know what your future is, but if you are willing to take the harder way, the more complicated one, the one with more failures at first than successes, the one that has ultimately proven to have more meaning, more victory, more glory then you will not regret it.
Now, this is your time. The light of new realizations shines on you today. Howard's legacy is not wrapped up in the money that you will make, but the challenges that you choose to confront. As you commence to your paths, press on with pride and press on with purpose. God bless you. I love you, Howard. Howard forever!"
Boseman leaves behind his wife, Taylor Simone Ledward, whom he married just before his passing, reports say.
He will forever be missed. Even now, it's hard to believe he's no longer here. Rest in peace, brother. We love you.