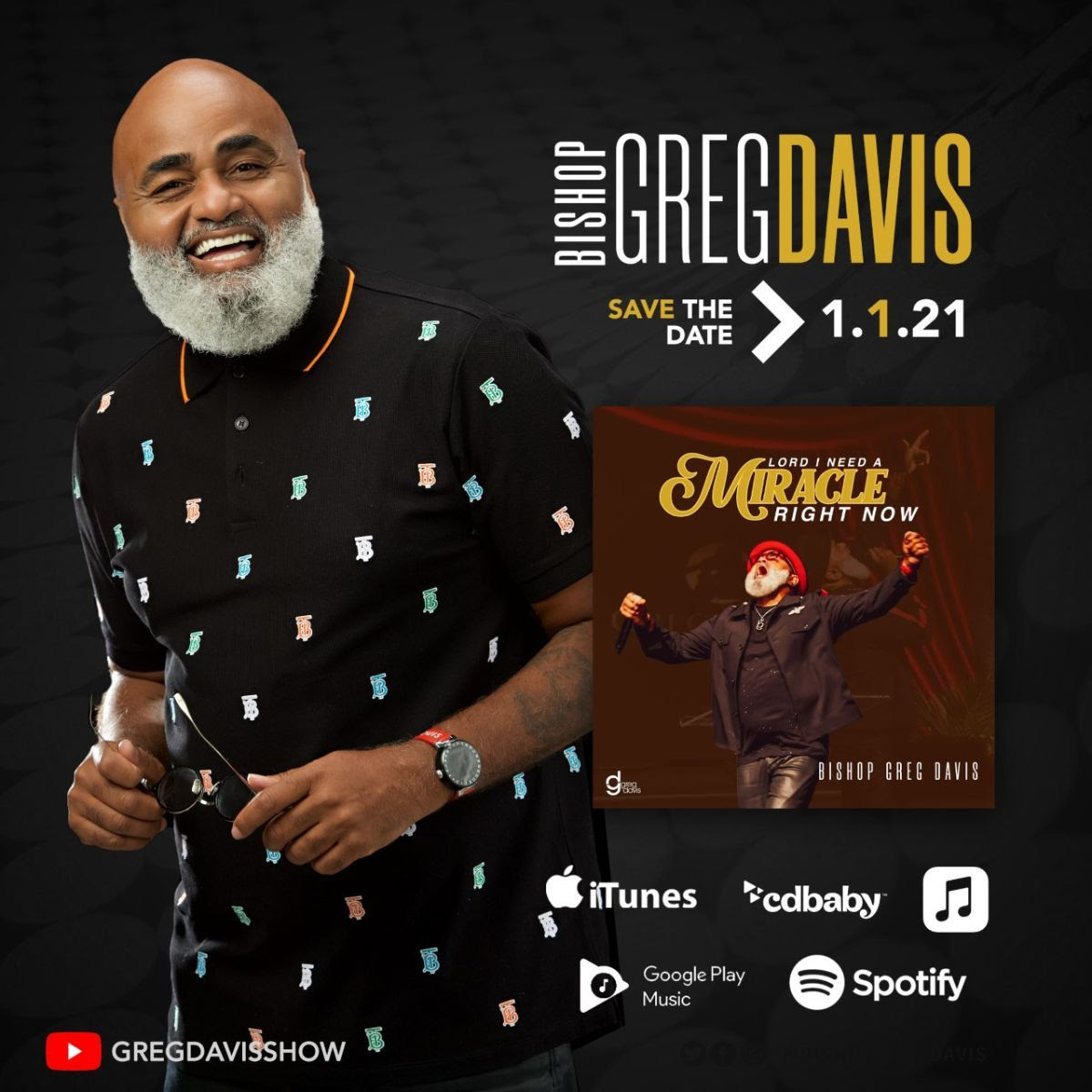 Author, television host, and pastor, Bishop Greg Davis' new single, "Lord I Need A Miracle Right Now" is now available for pre-order. This up-tempo live worship experience is  one that people will carry to their churches all across the country. It opens with a repetitive declaration that, "Today is your day for a miracle…" —perfect for the beginning of a new year!  The rest of the song highlights an organic worship experience that was written under the unction of the Holy Spirit beckoning listeners to join together with the expectant faith of a miracle.
This is the first single to be released after the success of his first album, "Today is Your Day for a Miracle Live" in 2007. The single will be fully released and available on all platforms Friday, January 15.
About Bishop Greg Davis
Greg Davis, Pastor, author, speaker, television personality, and global influencer, is one of the Founding Fathers of the Full Gospel Movement. Founded by Bishop Paul Morton Sr. now led by presiding Bishop Joseph W. Walker III.
Although in ministry for 35 years, for the last 8 years, Greg Davis has made a successful transition into the world of relationships and is known as an experienced and trusted voice in dating, marriage, and relationships. He brings a wealth of knowledge with 20 years of experience in marriage, making him an impactful relationship coach to all. As a single man of 5 years, he also provides relationship advice on Instagram and his YouTube Channel, "When The Right One Comes". What started as just a few popular tweets spiraled into a demand, thus creating a movement.
Davis is also the author of over a dozen books to include one by the popular title, "When The Right One Comes."  Greg Davis has been in media and television for over a decade, hosting numerous shows on The Word Network, the largest Urban Christian network in the nation. He now operates multiple live shows that garners thousands of views per week, to include The Young Prophet, Young Preacher Movement, When The Right One Comes: Men's Perspective.
Davis' objective is to use his positives influence and global platform to impact the lives of others.