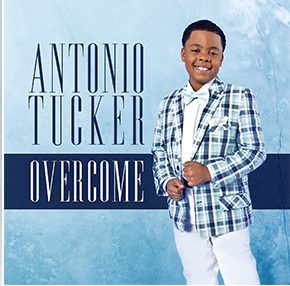 BGA Music Group, the record label who launched the career of Stellar and Dove Award Nominated Artist G.I., has now launched the national ministry of 11-year old singer and preacher Antonio Tucker with his Billboard Top 100 single release "Overcome." Overcome is already being well received across the nation having garnered significant airplay in key markets. The words are powerful, the melody is memorable, and the message is universal. Antonio has been termed "Little Bishop TD Jakes" for his preaching, and "Little Michael Jackson" for his amazing vocal presentation, stage presence, and energy. He started singing at the age of 3, and preaching at the age of 7.
Antonio is already in demand preaching and singing almost every weekend of each month. He's a straight "A" student (who's never made a B his entire academic career). He is also a vocal and piano student at BGA School of Music, the Performing Arts School in Richmond VA. Outside of Antonio's call to spread the gospel through preaching and singing, he aspires to be a heart surgeon.
"From the moment I met Antonio I knew he was called to the masses," says Branden Anderson, CEO of BGA. I'm excited to see him walk in purpose and reach the nations. Antonio Tucker says "I'm so excited to share my music/preaching ministry with the world. We serve a great God. No matter what we face in life, we have to remember that greater is He that is within us, than He that is in the world: and for that reason, we Overcome!