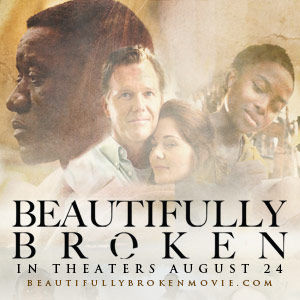 Big Film Factory has pegged a release date for its film Beautifully Broken which will be released theatrically on Aug. 24 via ArtAffects. The film is about a refugee's escape, a prisoner's promise, and a daughter's painful secret that converge in what is a true story of hope. As three fathers fight to save their families, their lives become intertwined in an unlikely journey across the globe, where they learn the healing power of forgiveness and reconciliation. It will be released into 600 theaters.
The Beautifully Broken cast includes Scott William Winters (Lethal Weapon, Good Will Hunting), Benjamin Onyango (God's Not Dead, Inception), Emily Hahn (Toy Story 3, Fresh Off The Boat), Eric Roberts, Jessica Obilom (Trafficked), Caitlin Nicol-Thomas (Nashville), Alan Powell(Quantico), Eugene Khumbanyiwa (District 9), Tammi Arender (Pitch Perfect 2), and television personality Thomasina "Goo Goo" Atkins (Mary Mary). Christian music artists Toby McKeehan and Michael W. Smith also make appearances in the film.
The film was directed by Eric Welch (DC Talk: Welcome to the Freak Show) and written by Brad Allen, Chuck Howard and Martin Michael (I Am Not Ashamed), along with Mark McCann (Harmony). It is produced by Allen, Michael and Howard, along with Lisa Arnold (Caged No More), Jarred Coates (God's Not Dead), Michelle S. Duffie (War Room, The Shack). The executive producer is Randy Hartley (Through the Valley).
The movie also features title song Beautifully Broken, performed by three artists: Dove Award-winning pop singer Plumb, Grammy Award-winning country artist John Berry, and Grammy Award-winning gospel artist CeCe Winans. The song is written by Plumb and Jenny Slate Lee and produced Howard.