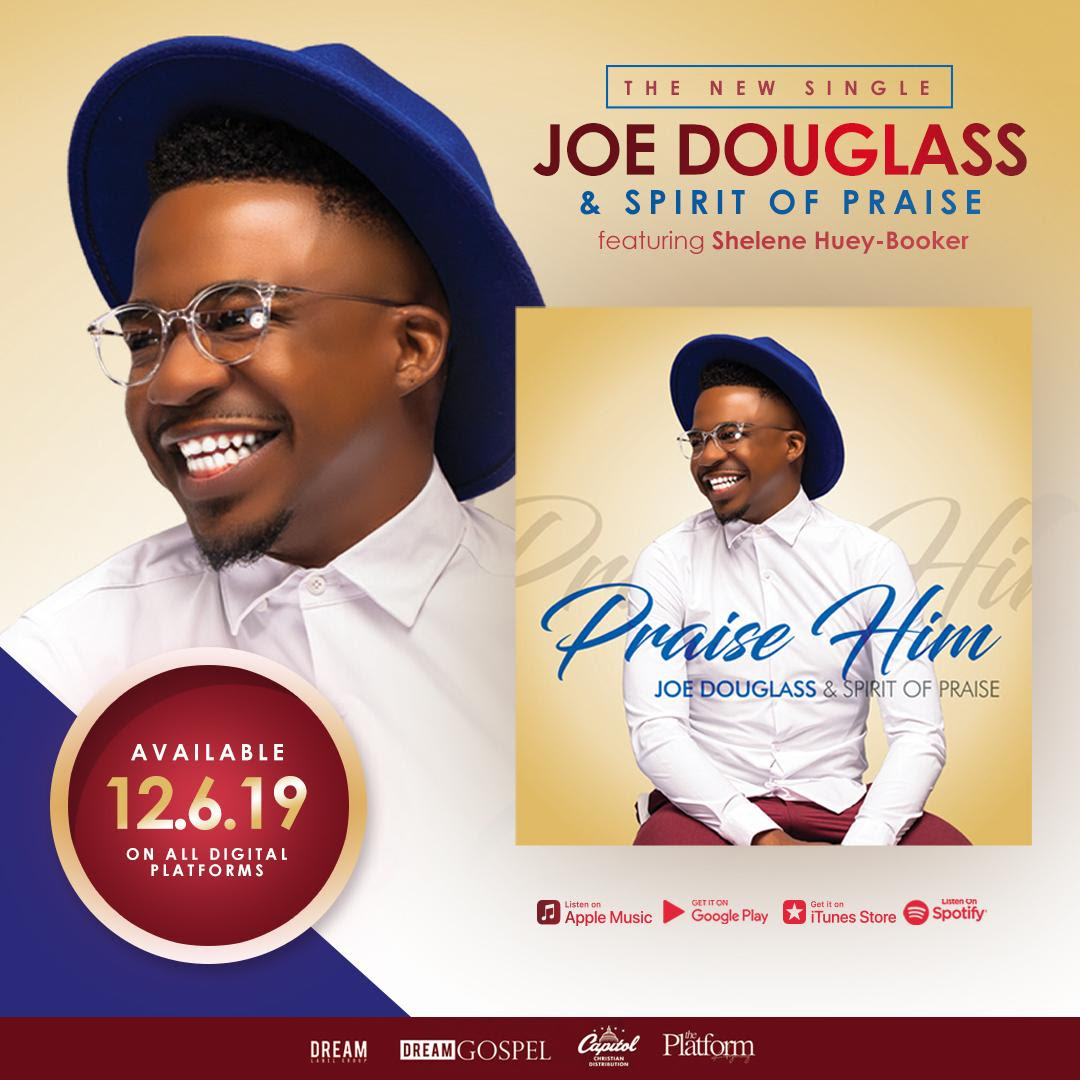 Veteran artist and bay area's best kept secret,Joe Douglass, celebrates new label home Dream Label Group, and new single, Praise Him,available on all digital outlets Friday, December 6, 2019.
The bay area has birthed a juggernaut of secular and gospel music culture that includes the likes of Journey, Santana, Sly and The Family Stone, Keyshia Cole, and the legendary Hawkins fami- ly. We can now add Joe Douglass and Spirit of Praise to that long list of impactful artists who are making waves in the current musical landscape.
Joe Douglass and Spirit of Praise are no strangers to the industry, assembling in 2011 and making their nationwide debut in 2014, their debut album The Great I Am, peaked at #4 on the Billboard gospel chart and featured Grammy® Award winner Tye Tribbett, Lena Byrd-Miles and Chrystal Rucker. Their latest single, Praise Him featuring Shelene Huey-Booker, is a mid-tempo radio friendly hit that gives us a familiar reminder to praise the Lord every time we get the chance. The catchy bass driven chorus admonishes, "Everybody clap your hands, Everybody pat your feet, Everybody wave your hands, Everybody say Amen."
Just in time for the Christmas holiday, Praise Him is sure to make a huge impact on radio and streaming services alike upon its release at the top of the month, as it is a sound that has been missing from today's Top 20 gospel radio format.
Check out "Praise Him" HERE:
About Joe Douglass and Spirit of Praise
Joe Douglass always had the gift of captivating the hearts of people. Initially as a promoter start- ing in 2009, Joe began producing various concerts, seminars, and conferences in the bay area that crossed denominational barriers and brought all ages and walks of life to Christ.
Always one to think outside the box, Joe wanted o reach people outside of the four walls of the church, thus forming Spirit of Praise in 2011, which eventually lead to a full time ministry movement in the bay area, with their main focus being young people being led back to Christ.
Joe continues to inspire young adults, and all walks of life bridging the gap between the world and the church. Enhancing his gift with a Bachelors in Production Management/Sound Engineer- ing and currently studying at the Pacific School of Religion in Berkeley, California with a goal to graduate in 2021 with a Masters in Divinity & Church Leadership.
The highly anticipated album Journey to Glory, is expected to be released in the spring of 2020 with production by Mike Bereal (Snoop Dogg, Marvin Sapp, Faith Evans, Mary
Mary) and collaborations with Lisa Page Brooks, Y'Anna Crawley, KJ Scriven and songs writ- ten by Douglass himself, Todd Galberth, Deon Kipping and the late Edwin Hawkins