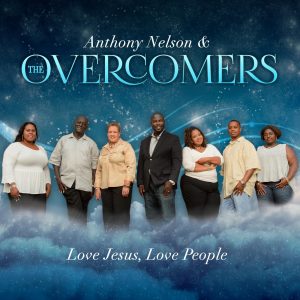 A dynamic new urban contemporary gospel group Anthony Nelson & The Overcomers is ready to explode on to the national landscape with its debut album "Love Jesus, Love People" releasing on iTunes and all major digital retail sites on January 29, 2016. The head-bobbing radio single "Dedicate" is making a quick path up the Billboard and Mediabase gospel radio airplay charts with an intoxicating vibe that sways between Smooth Jazz and Adult R&B. View Lyric Video on Vevo: http://www.vevo.com/watch/FR1A91501713.
The group's rhythm is a blend of Bebe & CeCe Winans' inspirational R&B (Listen to "Give Me A Clean Heart") and the 1970s-era group The Soul Children's deep soul gospel harmonies (check out "Love My Enemies"). It's an adventurous and welcome combination that permeates this dazzling, twelve-song set of faith-driven affirmations. When they sing, "the world has nothing I desire" on the beautiful ballad "We Adore You," we believe them. Without seeking to be an R&B crossover group, they have nonetheless perfected a sound combining forthright spiritual lyrics and a smoothly commercial Adult R&B sound that will make the septet's music just as at home at urban radio as it will be at gospel.
Nelson, a self-taught musician is an engineer with a petrochemical company and was inspired to launch the group after the death of his parents. An only child, he briefly strayed from church after their deaths but eventually returned and says, "God miraculously helped me to realize that He placed the gifts of songwriting, composing, producing and musicianship (piano, organ, bass guitar and guitar) in me to minister to people around the world about three years ago.   It's a powerful testimony of what God can do when you are obedient to Him." The cluster is comprised of Nelson's relatives Melini Redditt, Hollis Brown Redditt, Lynn Burnett, Michael Burnett, Shalandra "Dee" Irvin and Charles Frazier. Visit http://antheovercomers.com for more information.