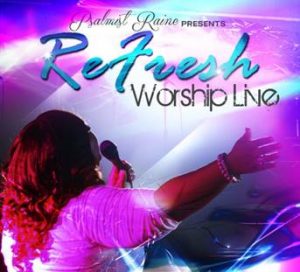 Few worship leaders would step to the stage in front of a packed audience to record a live DVD having only prepared one song.  But Psalmist Raine is not your typical worship leader.  On October 17, 2015 at Chicagoland Christian Center Embassy, Raine, her singers and band stepped to their mics and instruments to record an entire album, having only learned the opening song.  The rest of the songs were given to the psalmist live and on the spot.  In a move that can only be termed "radical", singers, dancers and musicians watched as God delivered song after song after song, each one seamlessly connecting to each other.  Ministers and people of God moved from the audience and walked to the mic as well speaking what "thus saith the Lord", messages that flowed perfectly with the songs being sung.  What ultimately turned out to be 3 full hours of spontaneous worship and praise is the dynamic project,
ReFresh Worship Live
, a CD and DVD, scheduled to release on
March 22, 2016
.  The project will be available on all digital music outlets and can be pre-ordered at Raine's website,
BeReFresh.com
.
"About a year ago, the Lord spoke to me about doing a live ReFresh recording," recounts Raine.  "I was excited because I had songs that God had given me.  But He said 'no' to the songs I already had.  He said that He wanted it to be a straight prophetic recording.  That was very, very challenging for me.  I had never heard of anyone doing a prophetic recording before.  Literally, we had to remain open and build stamina and endurance for the presence of the Lord.  We had to consecrate ourselves so that we could remain in His presence for the entire recording," says Raine.
For anyone who was blessed enough to be in the room that night, it was an unforgettable experience.  Now that the album is ready to drop, amazingly, the singers and the band have to learn the music.  It's been a remarkable ride and Raine is humbled at how God showed up that evening.  She's excited to share the music with the world and the unbelievable testimony surrounding the new record.  "One of the things I am thrilled to share with people is the end result of trusting God," she says.  "We can be fearful when God asks us to do something that we have never done before, but through this experience, not only have I witnessed how God can make all things beautiful, but I have seen Him remove anxiety from my life," Raine explains.
Raine is no stranger to ministering to believers.  An ordained elder, prophetess and the Worship Arts Pastor at Life in Christ Family Worship Center in Chicago, she holds ReFresh workshops for worship leaders who have been experiencing burnout or drought.  The concept comes from Acts
3:30
which says, "
…That times of refreshing may come from the presence of the Lord…". 
Her goal is to pour into worship leaders so that they can pour back into the people of God.  She is establishing The ReFresh Worship Institute, Inc., which is scheduled to launch in September 2016.
Raine will be ministering two songs from the forthcoming CD live on Celebrate Live on TCT TV on
Thursday, February 18, 2016 at 8PM ET
.  The program will also stream live on
TCT.tv
.  Also, she will be taking the ReFresh Worship Experience Tour on the road.
Catch Raine during the following tour dates:
Saturday, March 5, 2016
– Power & Light Evangelistic Church, South Holland, IL
Saturday, March 12, 2016
– Glorious Light Church, Chicago, IL
Friday, March 18 – Saturday, March 19, 2016
?– Faith Place Center of Worship, Goldsboro, NC
?
Friday, April 22, 2016
– World Deliverance Outreach Ministries, Chandler, AZ
A nominee for the Chicago Gospel Music Award for Praise & Worship Artist of the Year and the Winner of the Peculiar Art Award from Kierra Sheard's BRL (Bold Right Life) Chicago Chapter, Raine was a member of the University Choir at Grambling State University in Grambling, LA.  Artists such as LeCresia Campbell, Bridge Campbell, Todd Dulaney, Maurice Griffin, Lonnie Hunter and others have played a part in nurturing her musical gift.  She dropped her debut album,
Believe Again – The Live Experience
in 2013 to rave reviews. For more information on Raine or the ReFresh Worship Experience, log on to
www.BeReFresh.com
.  Connect with Raine on
Facebook
and Twitter (
@psalmistraine
).