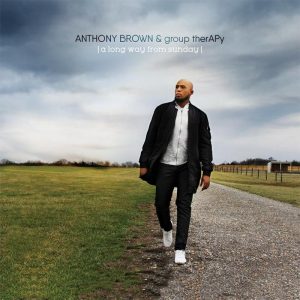 Once again, Anthony Brown & group therAPy celebrate a 'stellar' year of recognition. Their current album, A LONG WAY FROM 
SUNDAY
 received 10 Stellar Award nominations this year, the most by any artist.
The 2018 Stellar Award nominations were announced yesterday and Brown led the way receiving the nods in all major categories. Among the categories announced include: Artist of the Year, CD of the Year, Contemporary CD of the Year, Male Vocalist of the Year, Contemporary Male Vocalist of the Year, Group/Duo of the Year and Contemporary Group/Duo of the Year. Brown's 2017 powerful single "Trust In You"made an impact on audiences earning him a nomination for Song of the Year andUrban/Inspirational Single / Performance of the Year.
Brown is also nominated along with the producers of A LONG WAY FROM 
SUNDAY
, Justin Savage, Dana T. Sorey, Warryn Campbell and Darryl Woodson, in the Producer of the Year category.
"The Stellar Awards has always been such a blessing to Gospel music creators and gospel music lovers worldwide. I am continually humbled by this recognition & I am so excited to retake the stage at the 33rd Stellar Awards," said Anthony Brown.
The 33rd Annual Stellar Awards will be taped 
March 24, 2018
, in Las Vegas, NV and will be televised nationally later this year.
Brown & group therAPy have plans for a national tour, this spring to support A LONG WAY FROM 
SUNDAY
. The album has been a critical and consumer success since its release last July, and debuted at #1* on Billboard's Top Gospel Chart and continues to maintain top sales positions. It has generated two hit singles "Trust In You" and "I Got That."