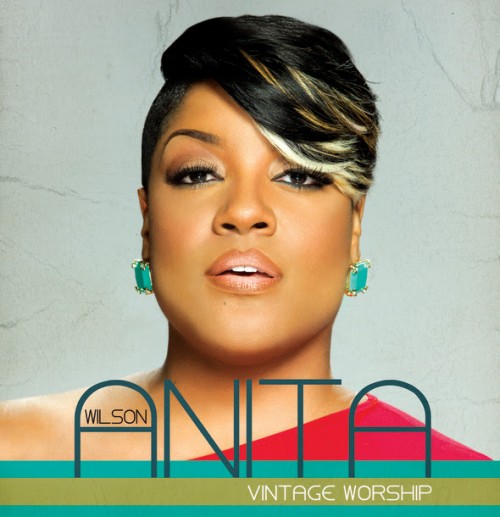 Anita Wilson's sophomore effort VINTAGE WORSHIP, debuts at #2 on Billboard's Top Gospel Albums chart this week. This impressive debut marks Anita's highest chart debut to date. Anita also debuted at#3 on Billboard's Top Christian/Gospel Digital Albums Chart.
This successful week followed an extensive 2-week promotional tour run in Chicago, New York, Philadelphia, Baltimore, Washington, D.C., Atlanta, Dallas, Houston among more, where Anita made several television and radio appearances that included BET.COM, BET Networks, Arise Entertainment 360, Interactive One, Essence.Com, The Tom Joyner Morning Show Red Velvet Cake Lounge, Sirius XM Radio, The Yolanda Adams morning Show and The James Fortune morning show, to name a few.
After hearing the album, The New York Times' Ben Ratliff states that "Anita Wilson has made her own moves recently, and they're some of the better records in Gospel right now."
Anita will kick off her Essence Music Festival participation in New Orleans with morning television appearances on Fox 8 and WWL-TV CBS The 504 and an appearance at the "Big Easy" Celebrity Style Lounge presented by Design Essentials onFriday July 4th.
On Saturday July, 5th the Vintage Worship singer will be appearing at the McDonalds's 365 Black Awards, Paint the Town Red with Rosa Regale, and "Where is the Love? The future of R&B town hall meeting. Anita will close out on Sunday July 6th with a performance at the Essence Empowerment session at the Ernest Morial Convention Center.
Anita continues to promote her album with appearances at the AIM Convention in Kansas City, NAACP National Convention in Las Vegas, the National Association of Black Journalists Convention (NABJ) in Boston, Bobby Jones Gospel in Washington, DC and various morning television appearances. VINTAGE WORSHIP is available in stores and online everywhere.
Read what people are saying about Vintage Worship:
"Vintage Worship is a flowing array of self-spiritual reflection and declaratory personal worship…"
– Ernest Owens, Contributing Writer – Huffington Post

"On Vintage Worship, Anita Wilson takes listeners on a musical journey, giving a nod to some of the best styles of classic soul, R&B, jazz and even disco, all while delivering the gospel without apology…"
– EJ Gaines, Editor In Chief – GospelPundit.com

"I Love Anita's voice, she stands out from the crowd. "Keep Doing What You're Doing" Is very uplifting and inspiring. This is a song that church choirs will be singing on Sunday morning!"
– Jerry Smith, Inspirational Programming Content Director – Radio One