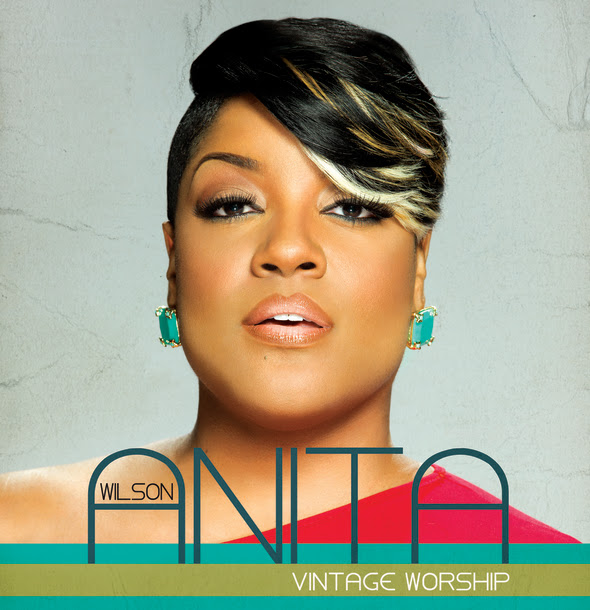 Grammy®, Stellar, and Dove-award nominated singer Anita Wilson keeps the sonic flame of Urban Contemporary alight with her unparalleled fusion of Gospel and Soul music.  First finding notoriety as part of the Grammy®-award nominated ensemble Donald Lawrence & Company, Wilson's beeline to the solo stage – via her debut album Worship Soul – came as a celebrated breakthrough.  Recognized by the New York Times' Ben Ratliff as one of "2012's top ten albums," Worship Soul wielded the memorable hits "Jesus Will" and "Speechless" and introduced the masses to Wilson as a new frontrunner for Urban contemporary gospel.
Her sophomore album, VINTAGE WORSHIP, follows in its predecessor's stead by unveiling a collection of masterfully crafted worship tunes that chime in as modern-day tributes to the eclectic sounds of yesteryear.  The 12-song project, seasoned with ingredients of classic gospel, funk, soul, pop, and R&B, sees Wilson not only cite gospel greats The Hawkins, The Clark Sisters, and The Winans as musical influences, but also draws from a well of R&B/Soul favorites like Diana Ross, Faith Evans, Donnie & Lalah Hathaway, and many more to create a melting pot of sounds.
From the moment listeners press play it becomes quickly evident that they are about to be lifted into a high-spirited worship session piloted by the soulful singer herself. Greeting them with the piano-laced "Close To You," the personal song opens the album by putting Anita's voice and testimony in its rightful place – front and center.  Unapologetically unembellished, the tune shines in its simplicity while cleverly setting the tone for an unforgettable worship experience.
Barely a blink after the subdued "Close To You" draws to close, the album blasts full speed ahead with the barrage of brass instruments that line "That's What He's Done For Me."  Paying homage to gospel legends Andraé Crouch and Milton Brunson and the Thompson Community Singers ("The Tommies"), the foot-stomping, toe-tapping tune is also the appointed first single from VINTAGE WORSHIP. A colorful collage of energetic bass licks, thunderous guitar riffs, and blaring horns, their powerful performance on the tune is only outdone by the song's uplifting lyrics about how good God has truly been.
The presence of triumphant horns is a mainstay aboard VINTAGE WORSHIP, as evidenced by songs "So Gone", "Gooder Than Good," and "You Love Me."   Magnetizing with its instantly recognizable interpretation of The Emotions' 1977 hit "Best of My Love," "You Love Me" (in its groove-tinged splendor) keeps true to the album's throwback theme while managing to never overshadow Wilson's true intent – ministry.
Anita has never shied from the desire to use her gift as a means to proclaim her love for God, and, of course, His love for us.  To ensure this message remains a focal point, VINTAGE WORSHIP skillfully enlists a host of enchanting ballads like "Everything," "The Real Me," and the ever-soulful "Keep Doing What You're Doing."  A lush number layered with an 80's-inspired instrumental, airtight harmonies, and Anita's supple alto, "Keep" captivates as a standout track from the album by its pomp and polish alone.
VINTAGE WORSHIP also shines with its impressive list of guest artists as found on the album's touching numbers "Time After Time (ft. Anaysha)," "Reasons (ft. Tommy Sims)," and a sure to be fan favorite "Oh How I Love Jesus".   A clear nod to the project's vintage theme, Anita calls on R&B singer/songwriter Avery Sunshine and the renowned Bishop Yvette Flunder to assist in launching the beloved hymn to a modernized, new pedestal of praise.  By the tune's end, the listener can't help but be enthralled by the spirited call and response session.
For the album's closing track, Wilson egresses on a high note in the form of "Happy Being Me."  Penned by Grammy-nominated soul singer Angie Stone, the tune – a nod to the sounds of Donald Lawrence & Co. – radiates as energetic horns kiss upbeat percussion to deliver a festive blend of instrumentation.  An up-tempo ode to self-appreciation, the song's lyrics lend a reminder of how important it is to love who God created us to be as individuals.
VINTAGE WORSHIP evangelically weaves a sonic journey through the decades.  A refreshing perspective on the marriage of music and ministry, the concept has undoubtedly been what's kept Anita Wilson's name in mention with the top of today's new generation of gospel stars.  And, if the collection of tunes that fill VINTAGE WORSHIP is any indication, it is well deserved.