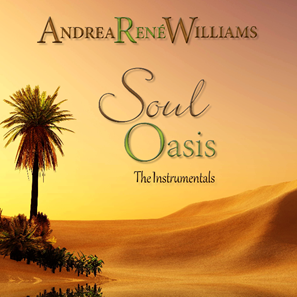 In the hustle and bustle of life, most people long to stop and smell the roses. Just the thought of lying down in green pastures and being led beside still waters for a restoration of the soul could be the reason why Psalm 23 is the most popular psalm in the Bible. It's with these relaxing and inspirational thoughts in mind that Gospel Artist and Instrumentalist Andrea René Williams releases her first EP, Soul Oasis: The Instrumentals. A collection of uplifting and reflective tunes, the four-song EP is currently available on Apple Music, iTunes, Spotify and everywhere where music is streamed or sold online.
Many were surprised when Williams, known as a music industry guru and 23-year Gospel music professional, launched her own music career. The former Recording Academy/GRAMMY Awards Project Manager and owner of the Gospel music publicity and marketing firm Tehillah Enterprises has been recognized for working with artists such as Gladys Knight, Pastor Charles Jenkins, Byron Cage, Earnest Pugh, and the late Andraé Crouch. But few knew that the two-time Rhythm of Gospel Awards Nominee for Gospel Radio Promotions & Marketing Group of the Year has been a singer since the age of 4 and a pianist since the age of 7. It's that history of music performance and a passion for touching the heart with song that is showcased in her instrumental debut, Soul Oasis.
Flaunting a classical yet soulful flair while delivering her own unique sound, the 2019 Berklee College of Music Summa Cum Laude Graduate and 2020 & 2021 four-time WAMMIE Award Nominee takes the listener from the African rhythms of "Soul Oasis," the first and title track, to the orchestral, emotional depths of "Lost at Sea," already the EP's most popular cut. Another strong cut on the record, the mellow "Won't Work", has been played on DC's top urban station, WHUR-FM and on several other stations nationwide. With all songs written, performed, produced and mixed by the artist herself, Soul Oasis: The Instrumentals is a testament of perseverance and the recognition that it's never too late to pursue your dreams.
"For over two decades, God gave me the opportunity to help hundreds of artists take their music careers to the next level," Williams shares. "But He reminded me that in my pursuit of helping others, I couldn't forget that He had gifted me as well. I also remembered that He holds all of us accountable for using the gifts He's given us. So with that in mind, it's a great feeling to release these songs to the world so that others can hear and be blessed by these tunes, songs that the Lord gave me in dreams."
Although this project is her first instrumental project, she has previously released two vocal singles on her record label, Angels Wings Records, "Count It As Done," which garnered her a 2020 WAMMIE Award for Best Gospel Song and won 2nd place in the Make Music Montgomery Contest, and "Who Do I Run To," which also received a 2021 WAMMIE Award Nomination for Best Gospel/Inspirational Song. Andrea will be releasing her first vocal EP, Count It As Done, later this year.