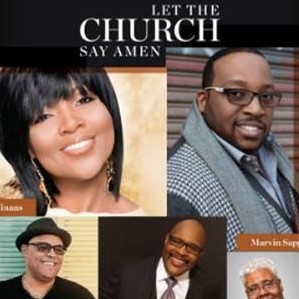 The Andraé Crouch All-Star Tribute Tour "Let The Church Say Amen" has been rescheduled to kick off March 20 in Birmingham, Alabama, featuring guest performances by some of Gospel's top artists, including CeCe Winans, Marvin Winans, Israel Houghton, DeLeon Richards, Marcus Cole, Keith Staten, Vonnie Lopez, Leon Timbo and jazz artist Gerald Albright among others. The nationwide tour hits 10 major markets for its initial run, with more dates to be announced, in honoring GRAMMY® Award winning Gospel music legend Andraé Crouch.  Crouch, who is widely recognized as the Father Of Modern Gospel, recently fell ill which led to the postponement of the tour's initial run.
Says Crouch:  "I am excited that the tour will go on and I am honored that Mano Hanes and such an incredible group of singers would take the time to pay tribute to me.  To God Be The Glory for the things He has and continues to do."
Crouch's twin sister Sandra Crouch echoes: "We are overwhelmed by the cards, calls and prayers that have come from all around the world and ask that you continue to keep my brother in your prayers."
Says Luther "Mano" Hanes, CEO/President of Riverphlo Entertainment and tour producer:  "I am excited to be able to move forward with the vision God has given me to bring together artists that not just know the music of Andraé Crouch but were a part of the legacy of Andraé Crouch.  We believe that this tour will for some remind them of some of the most powerful songs ever written and for others introduce them to the person that not only changed my life but also on whose shoulders a lot of the success and universal appeal of Gospel Music rests."
The "Let the Church Say Amen" Celebration Tour will make stops in: Birmingham, Charlotte, Atlanta, Orlando, Miami, Tampa, New Orleans, Richmond, Philadelphia and Washington, D.C.
Produced by Riverphlo Entertainment (Mano Hanes), the "Let The Church Say Amen" Celebration Tour pays homage to the living legend's illustrious career spanning over five decades. With seven Grammy Awards, six GMA Dove Awards and an Academy Award nomination for The Color Purple, Andraé is a highly respected member of the Gospel Music Hall of Fame, and has a star on the Hollywood Walk of Fame.
Andraé's songs have been recorded by everyone from Elvis Presley to Paul Simon, and he has worked as a producer and arranger with many of music's top artists, including Michael Jackson, Madonna, Quincy Jones, Diana Ross, Elton John, and many others. Andraé can also be heard on Michael Jackson's hit singles "Man in the Mirror," "Keep the Faith," "Will You Be There" and "Earth Song."
"LET THE CHURCH SAY AMEN" CELEBRATION TOUR DATES
Friday, March 20                    Birmingham, AL                      Alabama Theater
Sunday, March 22                  Charlotte, NC                         Bojangles' Coliseum
Monday, March 23                 Atlanta, GA                             Cobb Energy Center
Thursday, March 26               Orlando, FL                             CFE Arena
Saturday, March 28                Miami, FL                                James L. Knight Center
Sunday, March 29                  Tampa, FL                                Sun Dome
Friday, April 3                         New Orleans, LA                     Waterfront Theater
Thursday, April 16                  Richmond, VA                         Altria Theater
Sunday, April 19                     Philadelphia, PA                     Liacouras Center
Monday, April 20                   Washington D.C.                    Constitution Hall