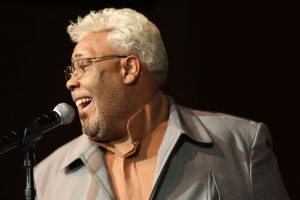 Fox TV's "American Idol" judge, Randy Jackson, gave gospel legend Rance Allen an unexpected plug on last night's television broadcast. After Top 12 finalist, Jacob Lusk, finished singing Luther Vandross' classic "A House is Not A Home" on the televised singing contest, judge Steve Tyler kicked off the praise for Lusk by suggesting that "divine intervention" brought the Compton native to the program.
Then, Randy Jackson, a judge on the show since its inception, hailed Lusk's performance with this comment: "Luther would be so proud of you and you also have a little something else. You've got that Rance Allen thing that you open into the false[tto] with those crazy crystal clear high notes." Check it out on Youtube:
http://www.youtube.com/watch?v=TDcajjq5J0M
Praise from Jackson, who has produced artists such as Mariah Carey and Kenny Loggins, is just one of the many accolades that has recently fallen on the veteran singer as he and his brothers, Tom and Steve, celebrate their 40th anniversary as the Rance Allen Group. Rocker Huey Lewis recently praised and cited Allen's music as one of his early musical influences on a "Tavis Smiley Show" television interview. Moreover, the Rance Allen Group has recently performed on high profile television programs such as the 26th Annual "Stellar Awards" and BET's "Celebration of Gospel." The latter was viewed by 2.9 viewers – the highest rated gospel program in the network's history.
The group's heightened visibility is in support of their first project in three years, "The Live Experience II: Celebrating 40 Years of Music & Ministry" (Tyscot Records). The album debuted at #10 on Billboard's Top Gospel Albums chart a month ago and still selling briskly. The companion DVD debuted at #9 on Billboard's Top Music Videos chart, sandwiched between Bon Jovi's "Live At Madison Square Garden" and Michael Jackson's "Live in Bucharest" DVDs.
The Rance Allen Group was born in their grandfather's Monroe, MI church and they began recording professionally in 1971 for Stax Records where they cut gospel songs that crossed over to the R&B charts. In the 40 years since, they have cut classics such as "I Belong To You," "Miracle Worker," "Something About The Name Jesus," and their current chart smash, "You That I Trust." Visit www.tyscot.com for more information.