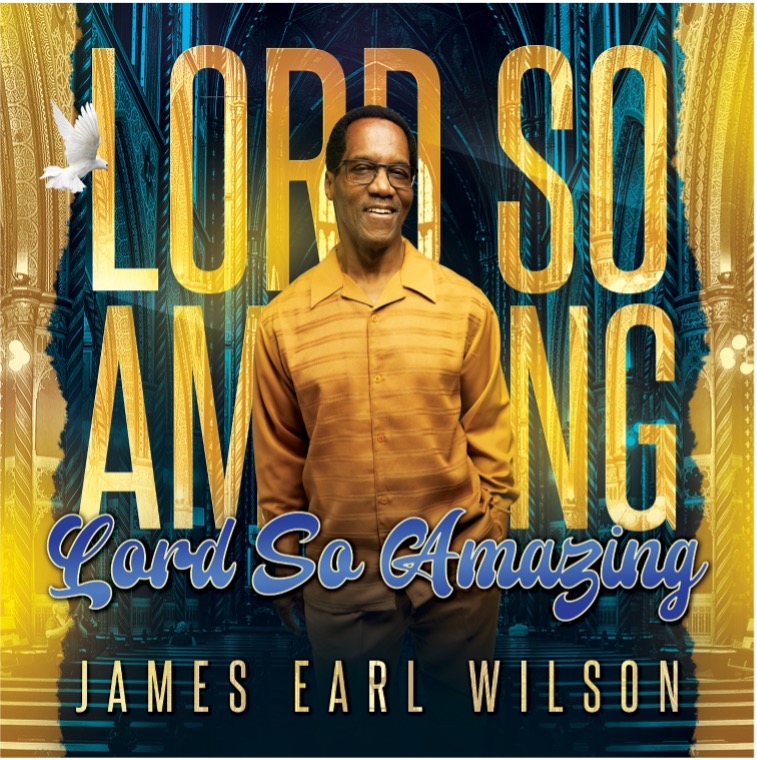 Behind many Gospel songs is a testimony. But it would be hard to find an artist who is a living, breathing example of their song more than James Earl Wilson. Surviving a serious drug and alcohol addiction (and overdose), a plunge from the top of a three-story building, a literal stabbing in the back, and his own "George Floyd" incident which resulted in an out-of-body experience, it's simply the grace of God that has kept him in the land of the living. It's these experiences and many others that are the impetus for the vocalist and songwriter's release of a new song, "Lord So Amazing". Sung by a man who truly understands the incredible power of God, James gleaned much about music ministry from his former pastor, the late legend, Andraé Crouch. Now the Oakland, CA resident drops "Lord So Amazing", a moving Gospel ballad, currently available on all digital music outlets.
"Lord So Amazing" showcases the soothing vocals of Wilson. Penned by the artist and arranger/co-songwriter Derrick Hall, the track is pure inspiration. With a vocal style reminiscent of the late Lou Rawls, Wilson delivers a heartfelt performance on the declarative track. Produced by Pastor Charles Leonard, the praise anthem is a reminder of the untold wonders and the incredible awesomeness of the Lord. Released on September 23rd, the song is the latest in a string of songs from the prolific songwriter and ordained minister.
Since the beginning of his life, music has always been a major part. Born on the "wrong side of the tracks" in the City by the Bay, James found music as an escape, a way to cope with the harsh realities of his existence. One of ten children, his life took a tragic turn with the murder of his father at the age of 13. Although the family did attend church weekly, as a teenager, James wasn't a believer. The loss of his father took a huge toll on the family and James' mother struggled with raising his brothers and sisters on her own. Unfortunately, James found himself spending time on the streets; it was the start of a downward spiral. But even in the midst of the trauma, singing was never far from his thoughts. His remarkable talent to sing and write songs caught the attention of R&B and Hip Hop Legend Teddy Riley, during the 90s when he was forming what we now know as the GRAMMY Award-Winning Group, Blackstreet. He was all set to became part of the group, but God had other plans.
After a miraculous intervention by God where the taste of drugs, drinking and cigarettes was taken from him instantaneously and a multi-year sentence in prison, James eventually fully committed his life to the Lord. Now an ordained minister at the St. Paul AME Church in Berkeley, CA, he desires to share his testimony through song. A husband, father and grandfather, James is relentless in his role as an evangelist and minstrel. Known for songs like "Marching Into Zion" and "There's No One Like Jesus", "Lord So Amazing" is another addition to his repertoire of sacred songs. When asked about his songwriting and his mention of the Savior in every song, he says it's intentional. "I always want to include God in my songs," James says. "Some choose to use 'He' and 'Him' in their lyrics, but I want people to know – when they hear my songs – that I am talking about Jesus."
For more information on James Earl Wilson, log on to www.jamesearlwilson.com. You can connect with him on Facebook and Instagram.