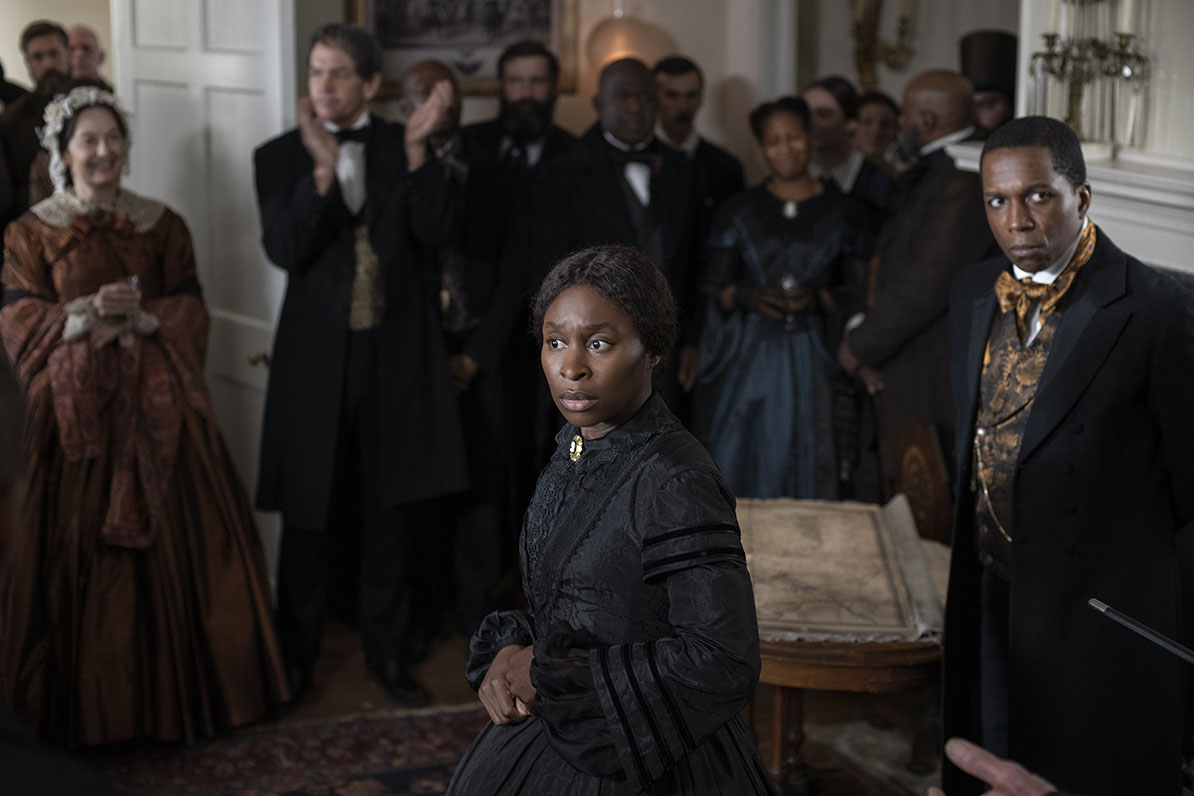 Based on the thrilling and inspirational life of an iconic American freedom fighter, HARRIET tells the extraordinary tale of Harriet Tubman's escape from slavery and transformation into one of America's greatest heroes. Her courage, ingenuity, and tenacity freed hundreds of slaves and changed the course of history.
uGospel.com's Own Khalif M. Townes had the Opportunity to speak with Cynthia Erivo (Harriet) and Director and Co Writer Kasi Lemmons on the marking of Harriet! One Movie that is designed for the entire family and will give you a much more in depth experience on the life and legacy of Harriet Tubman.
Dorchester County, Maryland. 1849. Araminta "Minty" Ross (Cynthia Erivo) is a slave at the Brodess plantation who prays that someday she will be able to escape her circumstances and make a better life for her family. When slaveholder and patriarch Edward Brodess dies suddenly, Minty finds herself facing a terrible fate—she's to be sold to new owners in the South, never to see her loved ones again. After experiencing a powerful premonition, she realizes there is only one course of action left to her. She needs to run. But leaving behind the only home she's ever known comes with great peril. She'll need to journey alone through miles of wilderness with only God and the North Star to guide her, pursued at every turn by Brodess' vengeful son Gideon (Joe Alwyn).
Miraculously, "Minty" reaches the Pennsylvania border, crossing into freedom and traveling onward to Philadelphia, where she meets William Still (Leslie Odom Jr.) at the Pennsylvania Anti-Slavery Society. There, she chooses a new name, Harriet Tubman, and begins to establish roots as a working woman with the assistance of the entrepreneurial Marie Buchanon (Janelle Monáe). But Harriet can't reconcile having her newfound freedom while so many remain behind. Harriet resolves to rescue her beloved husband, John Tubman (Zackary Momoh). Although John is technically a free man, as an African-American in Maryland, he remains in constant danger.
Disguising her identity, Harriet bravely returns to the Brodess plantation to bring John back home with her—but learns the devastating news that he has moved on after her departure, believing that she died during her escape to freedom. Nevertheless, Harriet, believing that she is called by God to serve a higher purpose, saves the lives of her other family members. Soon, she is a full-fledged conductor on the Underground Railroad—a liberator known as Moses, secretly helping runaway slaves reach the promised land.
Even after the passage of the Fugitive Slave Act of 1850, which allowed plantation owners to recapture escaped slaves, Harriet remains undaunted. She returns to Maryland time and again, each subsequent trek brings her closer to a fateful encounter with the dangerous slave hunter Bigger Long, and with an increasingly angry and reckless Gideon Brodess.
The untold story of an American hero, HARRIET traces the remarkable life of the iconic freedom fighter whose courage and resourcefulness knew no bounds. Brought to the screen by acclaimed filmmaker Kasi Lemmons (Eye's Bayou), HARRIET celebrates a woman who by sheer force of will and fortitude defied impossible odds to change the course of her life and the fate of the nation.
Focus Features in association with Stay Gold Features and Martin Chase Productions presents HARRIET. Cynthia Erivo. Leslie Odom Jr. Joe Alwyn, Clarke Peters, Vanessa Bell Calloway, Omar J. Dorsey, Henry Hunter Hall, Tim Guinee, Nick Basta, Joseph Lee Anderson, Antonio J. Bell, CJ McBath, Alexis Louder, Aria Brooks, Janelle Monáe, Zackary Momoh, Frank Riley, III Daphne Maxwell Reid, Jenna Marie Hess, Kathryn Tkel, Vondie Curtis Hall, Jennifer Odessa Nettles, Deborah Olayinka Ayorinde, Michael Marunde, Kamillah Matthews, Rakeem Laws, Tory Kittles. Music by Terence Blanchard. Costume designer, Paul Tazewell. Editor, Wyatt Smith. Production Designer, Warren Alan Young. Director of Photography, John Toll. Producers Debra Martin Chase, Daniela Taplin Lundberg. Written by Gregory Allen Howard and Kasi Lemmons. A Kasi Lemmons film.
HARRIET opens in theaters November 1, 2019.