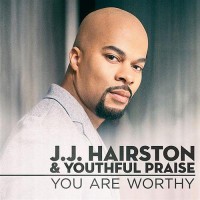 The acclaimed sound of award-winning artist JJ Hairston & Youthful Praise continues to inspire listeners everywhere with the launch of their new single "You Are Worthy."  Impacting gospel radio now and also available on iTunes as a 3-track maxi single, "You Are Worthy" has been another fan favorite from their #1 gospel album I See Victory.
"I am excited to be releasing 'You Are Worthy' as the next radio single; it is my favorite worship song on the album and I have loved hearing from so many fans who've responded to it! I am truly thankful for their ongoing support," says JJ Hairston.
Choirmaster JJ Hairston & Youthful Praise deliver their hallmark contemporary choir sound with an eloquent declaration of praise and worship.  "You Are Worthy" marks their third radio single from I See Victory, which features the singles "It Pushed Me" and "Bless Me" (feat. Donnie McClurkin).
JJ Hairston has recently been called to a new assignment, taking him to the Washington DC area with his family.  The prolific songwriter, producer and worship leader makes the transition to Greenbelt, MD to serve as the Director of Music for City of Praise Family Ministries, led by Bishop Joel Peebles Sr.  Hairston will be  appearing on TBN's Praise the Lord on Monday, April 13th in New York.
Get JJ Hairston & Youthful Praise's hit album, I See Victory, in-stores and online now.
iTunes I See Victory 18-track deluxe album
https://itunes.apple.com/us/album/i-see-victory-deluxe-version/id919206665
iTunes "You Are Worthy" maxi single
https://itunes.apple.com/us/album/you-are-worthy-single/id973268935