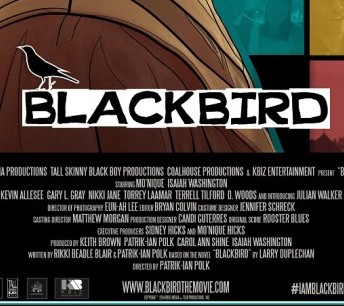 Urban Movie Channel, an RLJ Entertainment (NASDAQ: RLJE) brand, created by Robert L. Johnson, founder of Black Entertainment Television (BET) and Chairman of RLJ Entertainment today announced the April 24, 2015, U.S. theatrical release of the urban coming-of-age film BLACKBIRD. Based on the novel by the same name by Larry Duplechan, the film is directed by Patrik-Ian Polk (Noah's Arc, The Skinny), which he also co -wrote with Rikki Beadle Blair (Stonewall). The film stars Academy Award winning actress and comedian Mo'Nique (Precious), Isaiah Washington (Grey's Anatomy, Blue Caprice, The 100), Terrell Tilford (Single Ladies, Guiding Light), D. Woods (MTV's Danity Kane), Gary L. Gray (The Cosby Show, Bring It On: All Or Nothing), Torrey Laamar, Kevin Allesee, Nikki Jane and introduces breakthrough talent Julian Walker.
"I am very excited to bring BLACKBIRD to theaters and to UMC," said Johnson. "BLACKBIRD is in line with my vision for UMC to bring together the African American/urban production and talent community with a distribution channel dedicated to showcasing and supporting their creative works. I have had the pleasure of knowing Mo'Nique since early in her career as a comedian and her appearances on BET, and I know and admire Isaiah's work as both an actor and a producer. I am certain that audiences will enjoy the inspirational storyline and powerful performances by this extraordinary cast. BLACKBIRD is the type of high value content UMC was designed to promote," he concluded.
"Bob Johnson is a legend and a trailblazer – so I couldn't be more thrilled to work with him and his exciting new enterprise on the release of BLACKBIRD," director Patrik-Ian Polk said. "I've dreamed of making this film since first reading Larry Duplechan's groundbreaking novel twenty-five years ago as a freshman in college, and I can't wait to see it in theaters!"
BLACKBIRD is a personal, controversial, and inspiring story that introduces two up-and coming actors – Julian Walker and Kevin Allesee. BLACKBIRD tells the story of seventeen-year-old Randy (Julian Walker), a devout Christian who tries very hard to be a good person. Since his father (Isaiah Washington) left, Randy takes care of his emotionally disturbed mother (Mo'Nique), sings lead in the church choir and is the kind of friend all of his classmates can depend on. As strong as he seems on the outside, Randy is hiding a secret inner struggle – a denial of his true self. It is not until he opens himself up to love that he discovers that becoming a man means accepting who you really are.
"I am truly proud to bring this amazing film to the big screen," said Oscar-winning actress Mo'Nique who is an executive producer for the film. "BLACKBIRD is about a young man in Mississippi coming to terms with his sexuality. It's an incredibly inspiring story that beautifully tells the journey of life, love, family and finding one's truth through a myriad of personal triumphs, strength and acceptance. After first reading the script, I knew this was a story that we had to tell. It's a story that will resonate profoundly in the hearts of many, and a story that I knew, if told correctly would create a movement and bring about change to the lives of so many people, especially within the African American and LGBT communities," she concluded.
"It was important to bring this film to theaters and I was honored to produce and work with Mo'Nique, Julian Walker and Kevin Allesse on this film," said Isaiah Washington. "Duplechan first introduced his novel BLACKBIRD nearly thirty years ago, yet the story remains just as timely today as it was when first told. BLACKBIRD is a glorious film, a personal journey and a story that deserves to be shared."
The film is executive produced by Sidney Hicks and Mo'Nique Hicks and produced by Keith Brown, Patrik-Ian Polk, Carol Ann Shine and Isaiah Washington. The deal was negotiated by Mark Ward on behalf of RLJ Entertainment and attorneys Ricky Anderson and Nathan Hale Williams on behalf of the filmmakers.
In February 2014, 'Blackbird' began its very successful film festival run as the closing night gala screening for Los Angeles' Pan African Film Festival (PAFF) where it won the Founders Award for Best Narrative Feature Film. Other notable festival appearances include Newfest at Lincoln Center in New York City, Out On Film in Atlanta, Reeling in Chicago, Outfest Fusion in Los Angeles, The Seattle LGBT Film Festival, ReelQ in Pittsburgh, Outflix in Memphis, Long Beach QFilms, New York's American Black Film Festival (ABFF) and The Tampa International LGBT Film Festival. 'Blackbird' also sold out the twelve-hundred-seat historic Castro Theatre in San Francisco at Frameline Film Festival, the country's oldest LGBT film fest.
Internationally, 'Blackbird' had successful screenings at festivals in Barcelona, Melbourne, Copenhagen and Amsterdam with forthcoming appearances in Canada, England and Italy. Multiple festival juries and audiences have rewarded 'Blackbird' with 'Best Feature' honors: Outflix Memphis, Atlanta's Out On Film, Reeling in Chicago and the Crossroads Film Festival in Polk's native Mississippi. Additionally, the film received honors for Best Ensemble Cast, Best Director & Best Actor (Julian Walker) at Atlanta's Out On Film and the Diversity Award at the Barcelona LGTIB Film Festival.
UMC – Urban Movie Channel (), RLJE's proprietary digital channel features urban-themed movies as an alternative to conventional subscription-based channels by showcasing the best drama, documentaries, comedies, horror, and stage plays.
Among the titles available now are live stand-up performances featuring Kevin Hart, Jamie Foxx, and Charlie Murphy; documentaries Dark Girls and I Ain't Scared of You: A Tribute to Bernie Mac; the feature films All Things Fall Apart starring 50 Cent, Mario Van Peebles, and Ray Liotta; and The Suspect starring Mekhi Phifer. Bestsellers include the stage play production of David E. Talbert's What My Husband Doesn't Know. UMC can be found at: www.urbanmoviechannel.co